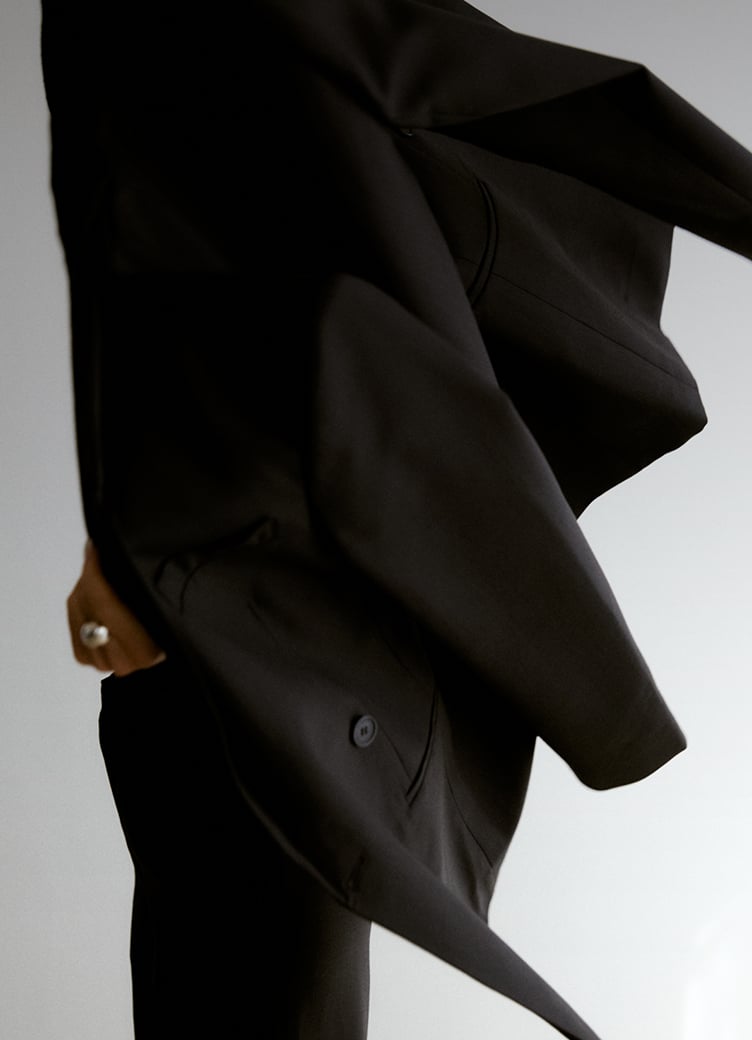 Henne are committed to reducing our impact on people and our planet. We are constantly evolving by exploring new sustainable practices through material sourcing, design, manufacturing and our packaging.
OUR VALUES
Introducing UPPAREL
Reduce, Repair, Reuse and Recycle
Step into our Prahran boutique and discover the convenience of our UPPAREL clothing drop-point. UPPAREL is Australia's leading textile recovery and textile waste recycling company.
Pass your pre-loved Henne pieces that have outgrown your closet to our boutique stylists.
By choosing to recycle through UPPAREL, you champion avoiding landfills, giving your items a renewed lease of life within a circular fashion economy.
As a token of our gratitude, 50 Collector points will be added to your account per donation for those who responsibly bid farewell to a worn Henne piece.
Once textiles arrive at the UPPAREL warehouse, every piece is graded and analysed to be sorted into two overarching categories: reuse and recycle. For items that are still fit for wear, UPPAREL have an open-door policy for charities, social enterprises, and not-for-profits.
Where pieces are not fit for wear, UPPAREL break-down the textiles into a variety of categories depending on their material and decommissioning required.
From there, UPPAREL begin the recycling process, taking textiles and tearing them into a super fine fluffy fibre. This material called FillUP can be utilised to replace virgin polyester fill for cushions and stuffed toys. To take it one step further, UPPAREL then compresses this fibre to create UPtex, a completely recycled and recyclable material that can be used for packaging, signage, homewares, and more.
[Hen-ne]
Universal style for all
Henne is an Australian-born, ever-evolving fashion brand creating wardrobe essentials with effortless appeal.
Founded in 2019 by sisters and friends Nadia Bartel, Michelle Ring and Laura Broque, Henne offers a contemporary approach to mindful apparel, balancing design innovation with quintessential RTW styles.
Inspired by equal parts Nordic sensibility, Italian expression, and Australian effortlessness, Henne's minimalist style philosophy, mindfully selected fabrication and versatile silhouettes form an enduring, curated wardrobe.
The evolving narrative of each Henne wearer inspires each collection, ensuring every garment has a lasting essence of warmth, inspiration and confidence.
CIRCULARITY
Product Life Cycle
We believe in treating clothing as a long-term investment. Caring properly for your Henne pieces is the best way to ensure a long lasting collection.
Henne's product life cycle is considered from initial design concepts to finding a place in your home. Our curated drops and limited quantity runs are designed to limit waste. Henne use stock fabrics, stock yarns & recycled materials with the commitment of reducing our impact on people and our planet.
Henne believe caring for our clothing has a positive environmental impact on the overall garments footprint – that does not end after you purchase a piece. It's always better to repair a garment and extend its life before you replace it. Find out more on how to care for your pieces here.
Limited Pieces. Ever-evolving RTW
OUR VALUES
INTERNAL IMPACT
Responsible practice
Championing Responsible Practice
At Henne, our commitment extends beyond crafting meaningful clothing; it's about embracing values that genuinely connect with our customers. Our journey begins with a dedication to responsible practices and a deeply ingrained ethos. Our community's diverse perspectives and unwavering dedication are integral to the foundation of every choice we make.
Empowering Makers, Ensuring Fairness
We believe in the power of partnerships that elevate our brand and the lives of those who make our vision a reality. We continue to collaborate with our local and international supply base to assist them to meet our standards for ethical workplace practices. From our local artisans to our offshore manufacturing partners, we promote fair working conditions.
ENVIRONMENTAL IMPACT
Ever-evolving
Our focus for every Henne design remains steadfast as we evolve—to work towards minimising our environmental footprint and fostering growth sustainably:
We continue to explore new fabrications and to make conscious choices, utilising recycled materials or natural fibres wherever possible.
We are expanding our locally made product range to support our talented local makers and to help reduce the environmental impact of international shipping.
We have introduced a 'take back' program for Henne garments to create a closed loop production model.
We are updating our Henne packaging to reduce the use of plastic from our supply chain by at least 70% by 2024.
We will continue to work on educating our Henne team in cutting edge sustainable practice standards they can implement at each design phase.
SOCIAL IMPACT
Empowering Women with Fitted For Work
At Henne, our commitment to sustainability goes beyond the seams—we take immense pride in the entire lifecycle of every garment we craft.
As part of our dedication to creating positive change, we proudly support Fitted For Work, a remarkable Australian not-for-profit organisation.
Fitted For Work is dedicated to helping Australian women to become work ready, to gain secure employment, and to experience success in their careers. Inclusivity and empowerment are at the heart of Fitted for Work, warmly welcoming anyone who identifies as a female, Gender Diverse and Non-Binary.
Fitted For Work believes 'when a woman is fitted for work, she is fitted for life'. Henne have proudly donated our clothing and time to Fitted For Work since 2021. Unallocated items from this program find purpose through our charitable partners—The Conscious Closet, Helping Hands Mission, and St Kilda GateHouse—ensuring that each piece leaves a meaningful impact far from landfills.